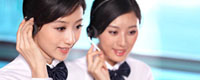 Tel: +86-543-3262621
Fax: +86-543-3217218
E-mail: Info@welltrust-homeware.com
Add: NO.877 Huanghe 12 Road, Binzhou City, Shandong Province, China 256600


Well-Trust Homeware is a very professional, creative and fast growing manufacturer, located in Shandong Province of China and established in 1997. We mainly engage in the producing and exporting all kinds of towels, Raschel and Flannel blankets, and gradually extending to Bed Linens, Bathrobes, Microfiber Cleaning Cloth, Curtains, Rug&Mats, and so on Home Textiles products.
As the honest supplier with more than 20 years of exporting experiences in the world, we always supply the most professional serivce, the best quality products with very competitive prices, especially the sincere reputation to meet the customers requirements, even exceed their expectations, to win the more and more cooperation!
We are certificated by the ISO Series, Oeko-Tex S.100, BSCI and so on!
In order to keep up with the fashion trend and ensure product innovation, we always pay the enough attention to analyze the market development tendency and create new kinds of popular designs and products , ultimately provide our customers with the exceptional value!